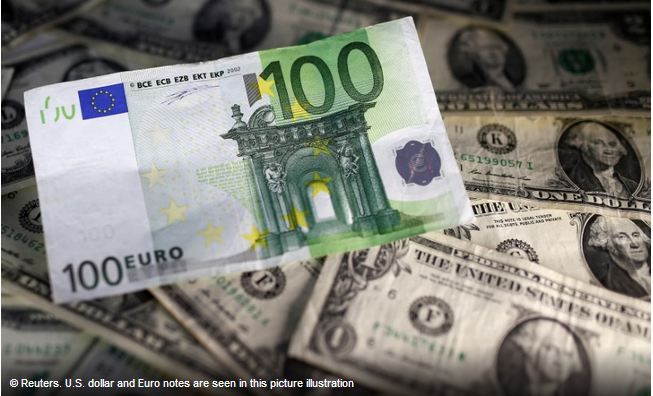 - যুক্ত হউন টেলিগ্রাম চ্যানেলে -
LONDON (Reuters) – The euro edged back towards the previous day's five-month high on Tuesday after posting its biggest one-day rise since June, on growing confidence that the market-friendly Emmanuel Macron would beat far-right rival Marine Le Pen to become the next French president.
The Canadian dollar — or "loonie", in the trader jargon — skidded to four-month lows after the United States slapped duties on Canadian softwood lumber <cad=d4>.
The centrist Macron won Sunday's French election first round, sending the euro surging above $1.09 <eur=> as investors took heart from opinion polls showing Macron would soundly beat Le Pen – who has threatened to pull France out of the euro zone – in the run-off on May 7.
The euro was up 0.2 percent by 0820 GMT (4:20 a.m. ET) at $1.0891, less than half a cent from a high of $1.0940 hit after Sunday's election results, and after climbing 1.4 percent on Monday.
The first round outcome spared investors their worst-case scenario of Le Pen facing off against far-left euroskeptic Jean-Luc Melenchon, who had surged in the polls in recent weeks, though he never broke into the top two.
That the pollsters – who had been criticized for failing to predict last year's votes for Brexit and Donald Trump – had accurately predicted Sunday's result bolstered confidence in their projection that Macron would win the second round, by a margin of 20 percentage points or more.
This increased confidence meant that political risk was being priced out of the euro ahead of the second round, with implied volatility – an option used to hedge against big future price swings – having fallen sharply. <eurvol=>
"This (second round) is going to be a non-event for the market," said Commerzbank (DE:CBKG) currency strategist Thu Lan Nguyen.
"Markets have pretty much priced out the risk of a Le Pen victory, and rightly so, because the first round of the elections has shown that the polls in France were correct…and this increases the confidence in the polls for the second round…It's highly likely that (Macron) is going to win."
Nguyen added that focus around the euro would now increasingly turn to monetary policy. The European Central Bank meets on Thursday, though it is not expected to announce that it is winding down — or "tapering" — its asset purchase program until later in the year, which should lift the euro.
The Canadian dollar fell half a percent to C$1.3570, its lowest since December, against its U.S. counterpart, after U.S. Commerce Secretary Wilbur Ross said his agency will impose new anti-subsidy duties averaging 20 percent on Canadian softwood lumber imports.
Despite gains against most major currencies, the U.S. dollar index — which is heavily exposed to the euro — slipped 0.1 percent to 98.983 (DXY).
Against the yen, it climbed nearly 0.6 percent to 110.40 <=JPY>, as the safe-haven Japanese currency edged broadly lower.
"For the dollar to make a try for 112 yen, you'd like to see some type of positive news out of the United States and an easing in North Korea-related tensions," said Satoshi Okagawa, senior global markets analyst for Sumitomo Mitsui Banking Corporation in Singapore.
For Reuters Live Markets blog on European and UK stock markets see reuters://realtime/verb=Open/url=http://emea1.apps.cp.extranet.thomsonreuters.biz/cms/?pageId=livemarkets